Elly Liyana Ruslan
Aug 28
"Faith, brother, not in the gods but in yourself."
- Charles Bukowski
The sun is setting. Having a smoke break.
Unfortunately, the bad habit has kicked in again since this painting started.
Giving me some much needed calmness through this storm.


Aug 26
70 ciento.
Burning the midnight oil.
Are we there yet?
Aug 24
vibrantnostalgia said: Hey :) First of all I really love your art! And secondly, I just wanted to let you know that I bought your Cat/Artists design on a tote bag from society6 and I can't wait to receive it!!
Hello! Thank you so much for the purchase!
x
dansoloart said: I LURVEM THE RETROGRADE PAINTING! (well the lady lying reading the book) :D
It is best to view that with Retrograde playing. Soundtrack of the painting. Haha
Thank you!
Aug 23
So show me why you're strong.
Ignore everybody else,
We're alone now.
Layering her up.
Aug 20
You're on your own,
in a world you've grown.
Few more years to go,
Don't let the hurdle fall.
So be the girl you loved.

Building her up
Aug 18
Underpainting progress
Aug 16
and this world keeps spinning around
Aug 14
I lay beside an empty space waiting for the sirens
Aug 10
I just started instagram for my art.
Follow me - ellyliyanaruslan
x
Aug 08
I'll wrap up my bones and leave them
out of this home, out on the road.
Two feet standing on a principle.
Two hands longing for each others warmth.
Cold smoke seeping out of colder throats.
Darkness falling, leaves nowhere to go.
It's spiraling down,
biting words like a wolf howling.
littleredxxxx said: Would you post a picture of one of your first drawings? So that we can all see how far you've come!
These are the only photos I have of drawings I did when I was 16. I can't remember if I still have the originals though. Ah, bitter sweet memories.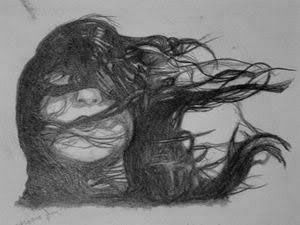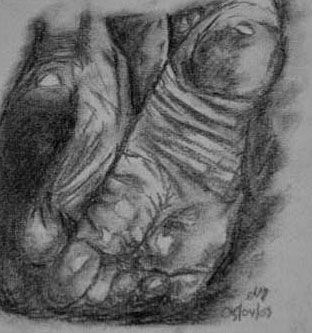 Aug 07
unebellediablo said: Nice artwork! When did you start drawing?
Thank you!

I've always enjoyed drawing for fun and at the age of 16 I felt that drawing was something I could learn to try to be really good at. So, I just kept on drawing ever since until it became a part of me. I am still learning along the way even 'til now at 27.

There are many things I'm uncertain about in this life but making art is the only thing I am certain of. 
sunshinecantstopshining said: Thank you for posting pictures in progress, I just saw your work today and I love every aspect of it and the progress pictures are inspiring and encouraging!
I like to document my progress to see how far I have to go and to fix any mistakes. It's also a good way to track any improvement as years roll along. Thank you for checking out my work!
treedeecee said: your art is wonderful! i really love the surreal/magical quality, it's lovely!
Thank you so much!